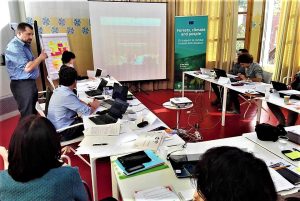 8th – 9th February 2017 – Barcelona (Catalonia)
A two days working meeting of the NET RISK WORK consortium held in Barcelona at the EFIMED facilities in Sant Pau Recinte Modernista, to start up the project NET RISK WORK. We have had a strong quorum covering all the natural hazards analized through the project, by means of each project partner and its expert knowledge.
A pleasure new working programme with EFI and FVA german collagues, EPLFM reasearch french institution, Civil Protection from Sardinia, Pau Costa Foundation and Forest Science and Technology Centre of Catalonia.