26th to 28th June, 2018 – Oporto (Portugal)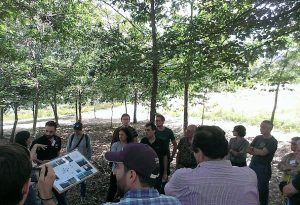 NET RISK WORK project was invited to be presented into the anual meeting organized by the Joint Planted Forests Facility and the IEFC. Taking advantage of the event, NET RISK WORK has also be present during the scientific seminar on "Global Change and Associated Risk: Trends and Preparedness in the Planted Forests of Europe", which took place on 27th June, under the frame work of the project Transnational Plans for the Management of Forest Risks – PLURIFOR.
The specific Atlantic conditions; in terms of weather, vegetation type, forestry economy, land ownership characteristics and traditional use of fire in agroforestry, of  North Portugal and Galicia's Region (Spain) provide a special forest context and wirldfire risk scenario which differs substantially regarding the Mediterranean conditions. Therefore, fire risk management will need to take into account all these particularities, aiming at mitigating social impacts and minimizing economicals and environmental losses. All in all, forest will have to face a wide level of complexity into the up-coming years, due to increasing pests trends which will favour forest conditions to other natueral hazards vulnerability.
The discussions where complemented with a fieldtrip across the Alto minho region, visiting many forest  affected by 2017 fires, as well as all the restoration measures implemented.
Further details of the event here
(soon available the event presentation at the PLURIFOR project website)