18th-21th of February 2018 – Písek (Czech Republic)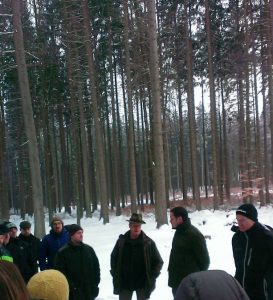 NET RISK WORK project has participated in the exciting kick-off workshop of the SURE project (SUstaining and Enhancing REsilience of European Forests).
The event has addressed disturbance related risks as an integral part of sustainable forest management.
Sorms, avalanches, wildfires or biotic hazards were presented as the main forest hazards present across Europe, as well as new management challenges posed by climate change.
Amongst other projects, NET RISK WORK was presented as an existing initiative in building-up network, and adressing how it can support a European Forest Risk Facility.
During the event, is has also being defined the conditions, pre-requisites, roles and functions of a 'European Forest Risk Facility Secretariat' and of regional network nodes, presenting the European Wildfire Risk Node, being developed under the NET RISK WORK framework.
I sum, the event was an unbeatable situation for expert knowledge exchange as well as to experience practices on forest management aiming to enhance forest resilience in conifer production forests.
More info: Event agenda