5th-6th of March 2018 – Brussels (Belgium)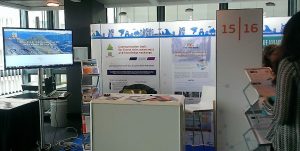 The NET RISK WORK project has been exhibited during the 6th European Civil Protection Forum 2018 "Civil Protection in a Changing Risk Landscape".
The European Civil Protection Forum is the largest recurring public event on European civil protection cooperation. It is organised every two years by the European Commission's Civil Protection and Humanitarian Aid Operations department (ECHO).
The event brings together the European civil protection community to take stock of common achievements in the disaster risk management field, share best practices and ideas, and discuss ways of addressing new challenges together. The Forum is also important for strengthening cooperation with international partners and the European Neighbourhood.
Specifically, Net Risk Work consortium, represented by CTFC, EFI and PCF, has emphatized on how forest risks are increasingly affecting societies as well as the potential trends of risk interaction under climate change context. Visitors have shown many interest on the "risk platform" concept as a tool for networking and expert knowledge risk communication and sharing, as it presents some paralelisms with the Disaster Risk Management Knowledge Centre (DRMKC) with regards the functioning and structure.
Finally, we get the oportunity to present a summary of the project to the Commissioner of Humanitarian Aid & Crisis Management, Mr. Christos Stylianides during the official opening of the exhibition.