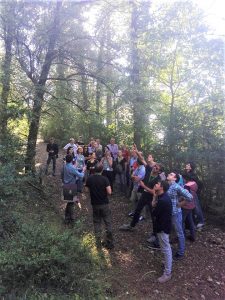 4th – 6th October 2017 – Solsona (Spain)
A three days workshop has been held in Solsona in the framework of the NET RISK WORK project, by the hand of catalan partner Forest Science and Technology Centre of Catalonia (CTFC).
Tha main goal of the workshop was to group risk experts from different European regions, in order to exchange and discuss all their knowledge and experienses in dealing with the four major natural risks affecting the european forest (storms, forest fires, snow avalanches and floods) and their potential interaction in a climate change context. A total of 45 experts represented 10 diferent european countries,  coming from Switzerland, Andorra, Germany, France, Lithuania, Bulagria, UK, the Netherlands, Italy and Catalonia.
To complement the office work and focus groups, two field trips were conducted to specificaly analyze the forest fire risk management and a second visit focus on floods and flash floods risk management in Catalonia. Both visits were located in Montserrat mountains and its souroundings, a typical Mediterranean region affected by multiples risks and interactions.
The results of the workshop and all the contents are available here.