9th to 11th May 2017 – Freiburg (Germany)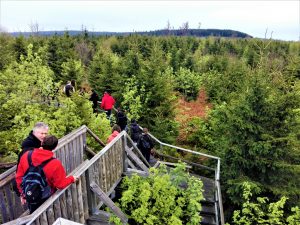 A three days workshop has been held in Freiburg in the framework of the NET RISK WORK project, by the hand of German partner Forest Research Institute Baden-Württemberg (FVA).
Tha main goal of the meeting was to set up the theoretical basis for developing a robust network aiming to deal with natural hazards and risk culture. A special focus on risk perception and the social factor was figured out, as well as the needs to join efforts and perform the sharing of knowledge amongs all the stakeholdres dealing with forest risk.
To complement the office work, two field trips were conducted  to specificaly analyze the floods risk management into the Rhine basin, having visited the Flood Forecast Centre (HZV) located in Karlsruhe and the Weir and Control Centre of Kehl. Regarding the second study case, a visit to the black forest was organized to see how sever wind storms are threatening large forests lands and the different measures adopted to increase the forest resilience.
The results and contents of the workshop are available here.